When my friend Shea asked if I would be interested in doing a guest-post on her site, I was extremely honored and a bit intimidated.
Anyone who followed our Ingredient Challenge Monday posts knows that, because of medical reasons, I live a gluten-free and dairy-free lifestyle, and Shea does not.
So how am I to create something worthy of my lovely friend's page that will meet the needs of her readers, but still be safe for my household as well?
Luckily, fall is full of flavorful inspiration.
Right about now, children are sleeping with dreams of gummy bears and Hershey bars running through their heads. Stores are brimming over with beautiful orange globes waiting for your creative nature to kick in.
And the air is quickly growing chill.
October is a great time to perfect holiday dishes and simply have fun with new flavors that are only available this time of the year.
These Sugar-Free Raw Vegan Caramel Pecan Pumpkin Pies in a Jar are not just handy, they are delicious and nutritious. The sweet caramel coupled with the smooth pumpkin filling; add in the slightest crunch of pecan, mmmmmmm heaven.
Best of all? Because there is absolutely no cooking involved, it will take you no-time to turn those left-over pumpkin carvings into a decadent dish your family will want to enjoy time and time again.
Before I go into the recipe, let me say just a couple of things…
#1. As much as I would love to take credit for the overwhelmingly delicious caramel that tops this beautiful dessert, I must give credit to the ingenious recipe for Raw Snicker Bars
from VGAN JAR.
I had struggled to find the perfect, no-fail way to top the pumpkin pie portion of this recipe…something that was as easily portable and the perfect complement to this dessert, this caramel certainly fit the bill.
#2. Why a jar? Well, I wanted something that was portable. I like to surprise my kids with a dessert in their school lunch every now and then, especially when I can make that dessert jam packed with nutrition. They're happy, I'm happy. We all win…
Really though, my family and I are looking at the possibility of going camping this Thanksgiving. In preparation, I am doing all I can to create the classic foods of this annual feast in a way that will be easy to bring with us, keeping my campfire labor to a minimum but our overall enjoyment to a maximum.
Expect to see at least one or two more jar-type desserts from me in the near future over at And Love it, Too!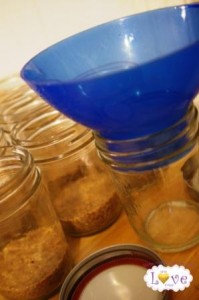 #3. I like to use my blue canning funnel to pour each layer in…this makes the filling process much easier and keeps the mess to a minimum. Yay!
#4. If you don't want to use a jar, this recipe will fill a 9-inch deep dish pie pan quite nicely.
Without further adieu, I present this dish crafted just for you.
xoxo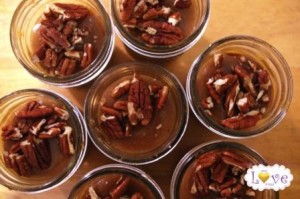 Sugar-Free Raw Vegan Caramel Pecan Pumpkin Pie, in a Jar
Crust:
1 Tbs Cinnamon
4 Tbs Coconut Oil, melted over low heat
Filling:
4c Raw Pumpkin, cubed
1-Large Ripe Avocado, peeled and seed removed
2c Pitted Dates
2 Tbs Coconut Oil, melted over low heat
3 tsp Ground Cinnamon
1 tsp Sea Salt
1 tsp Ground Ginger
½ tsp Ground Cloves
Topping:
16 Dates, soaked in water for at least 1 hour
½ c Agave Nectar
2 Tbs Coconut Oil
4 Tbs Water
½ c Crushed Pecans
8-12oz Jelly Jars with lids
In large mixing bowl, mix together the blanched almond flour and cinnamon. Slowly add in the coconut oil, using a fork to combine, stopping when the dough resembles cookie crumbs. Press ¼ c of crust mixture into each jar. Set aside.
In high-speed blender, add in pumpkin, avocado, dates, ginger, cloves, sea salt and coconut oil. For Vitamix, begin on Variable 1 and quickly increase to Variable 10. Tamper as needed. Allow to blend until mixture is completely smooth. Pour approximately ½ c into each jar. Set aside.
Clean your high-speed blender before moving on to the next step.
Blend soaked dates, agave nectar, coconut oil and water, on high until completely smooth, approximately 2 minutes. Add about 1 Tbs to each jar. Top with crushed pecans.
Refrigerate until ready to serve.
Serves 8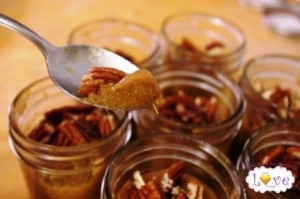 May this holiday season be filled with joy, laughter and lots of great food.
Thank you for this opportunity, Shea!
xoxo