Yes, another dessert recipe from yours truly.

What can I say? I think I might have caught the baking bug, although I don't like to eat them very much – but my sweet little family definitely does.
Is there such a thing as a baking bug?
Or is it just Christmas baking spirited-ness? Who knows. I hope I keep it long enough to get through my daughter's 14th birthday party tomorrow because I decided to be courageous enough to make a three tiered red velvet cake. Keep fingers crossed please.
The sweet people at OXO were kind enough to send me a package of fun kitchen stuff and I wanted to share with my readers what I made with my goodies. OXO has a cancer foundation, Cookies For Kids' Cancer, which raises money to fund pediatric cancer research through baking cookies and bake sales. It was founded by two OXO employees who were inspired by their son who was diagnosed with cancer.
The first little goodie in my box is this awesome spatula. You can click the link to buy one for yourself and 50% of proceeds will go to their foundation – and they are very reasonably priced at just $7.99.
I also got these cutie patootie, almost-so-cute-I-don't-want-to-use-them-because-I'm-afraid-the-kids-will-misplace-them-when-it's-their-turn-to-unload-the-dishwasher beakers.
But I will.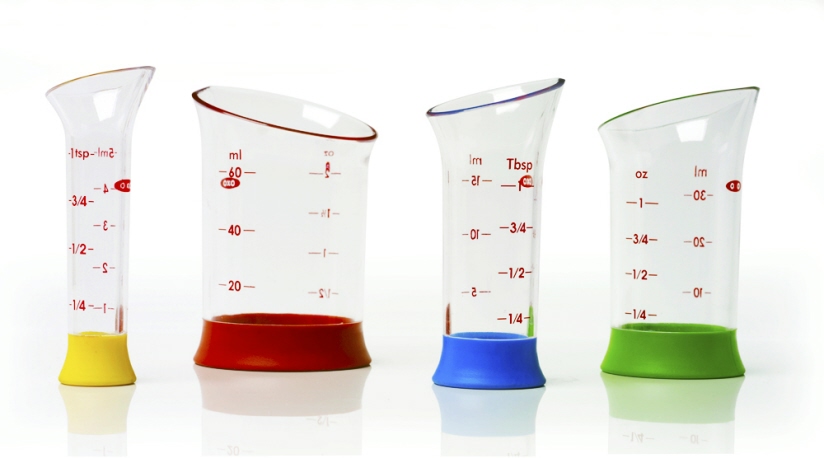 I just love them.
Now, onto the cookies!
Peppermint Crunch Whoopie Pies
The cookie recipe is actually the original
Toll House Chocolate Chip Cookie Recipe
sans chocolate chips and nuts.
Cookies
Makes about 30 depending on size
2 1/4 all purpose flour
1 tsp baking soda
1 tsp salt
2 sticks butter, softened
3/4 cup brown sugar
3/4 cup white sugar
2 large eggs
1 tsp vanilla
6 oz Andes Peppermint Crunch Baking Chips
Filling
2 cups powdered sugar
1 egg white
1 tsp vanilla
1/4 cup shortening
In a small bowl combine the flour through salt; set aside. Add the butter and sugars to a stand mixer and mix on low until creamy. Add one egg at a time, stirring thoroughly between each addition. Add the flour mixture 1/2 cup at a time with the mixer on low until all is incorporated; add peppermint chips and stir a few seconds more to combine. Refrigerate dough for about 20 minutes. (That's what I like to do; spooning them out is easier and much less sticky).
Preheat oven to 375° and make the filling: Combine 1/2 cup powdered sugar, egg white, vanilla and shortening. Add remaining sugar and stir until creamy. Store in refrigerator until ready to use.
On an ungreased baking sheet, drop dough by heaping tablespoons (I probably made mine a little bigger because I wanted big fat cookies) and bake for 8-10 minutes, until slightly golden brown. They will set more when you remove them from the oven. Cool on a wire rack completely – you don't want them falling apart when you spread the filling.
When cooled, put about a tablespoon of filling on a cookie, then top with another one. Store any cookies left in fridge.
Isn't that spatula the cutest?
XOXO
~Dixie Chik~