It is always an honor to have a friend request a guest-post. Yet even though Shea and I work together more often than most bloggers work together, because our methods of cooking are so different it is often difficult to come up with something that she and her readers will love equally as my family and my readers do.
But then, there's chocolate. Who doesn't love chocolate?
When my son asked me to make him a chocolate sandwich (think: Nutella), I knew just what I wanted to share.
Because two of my children and I cannot have milk, luxuries like Nutella are a no-go for us. That and the amount of sugar in the store-bought brands of chocolate nut-butters is enough to send my children into permanent hyper-active mode.
When there's five of them and only one of me…
Let's just say I avoid sugar as best I can.
Still, we like sweet. We love chocolate. And, we like to enjoy our food.
Thus, I am happy to share our solution to the no store-bought chocolate butter conundrum.
Choosing raw cashews over hazelnuts primarily because they are easier to find in our humble little town, this recipe is smooth, rich, creamy and every bit as sinfully delicious as a chocolate nut-butter should be…only, this one has none of the sugar or chemicals that come with the store brand.
Thank you, Shea, for the opportunity to share, I hope to see you all again sometime soon.
xoxo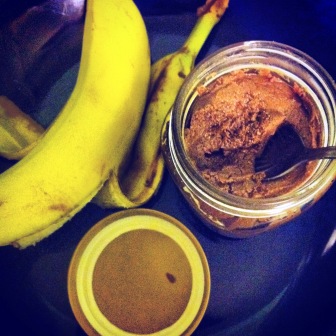 Sugar-Free Chocolate Cashew Butter (Raw, Vegan)
3c Raw Cashews
3 Tbs Cocoa Powder
3 Tbs Coconut Oil
6 Dates, soaked 1 hour
10 drops Vanilla Crème Liquid Stevia 
Using high-speed blender, add ingredients in the order provided above. Blend on medium speed for about 3 minutes, tampering all ingredients until somewhat crushed, turn speed to high and continue to blend until the natural nut oils are released and the nut butter is creamy and smooth, approximately 5 minutes longer. Remove from blender, serve and enjoy.
Store in an air tight container and refrigerate.
Makes approximately 3 cups of nut-butter.